Do you struggle with finding topics to write about for your next blog post? If so, then it's time to add some new sources of inspiration to your content marketing tools. In this post, you will find 15 sources for trending news and topics to help you come up with your next great content idea.
---
1. Exploding Topics
---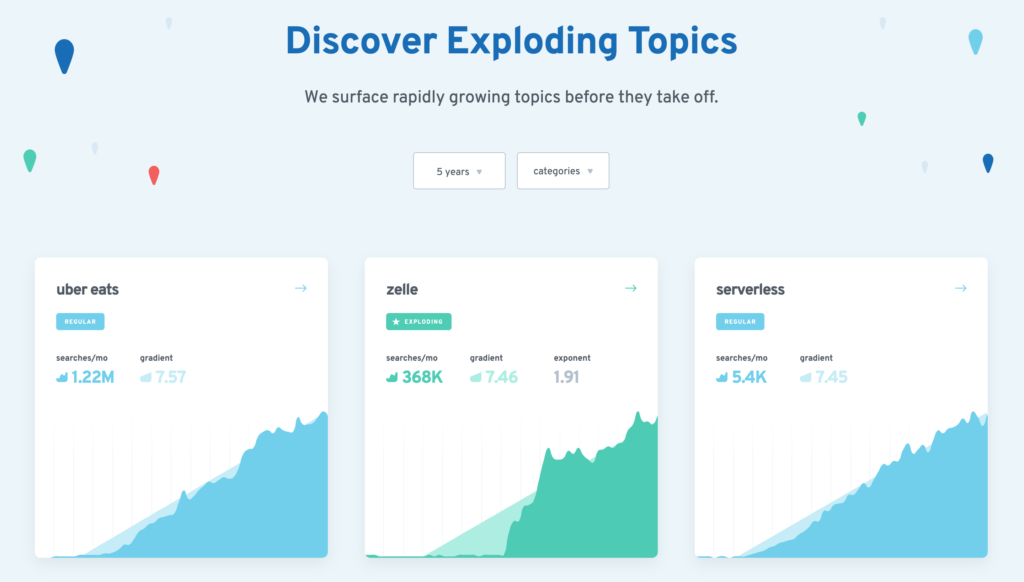 Exploding Topics aims to predict the topics that are about to emerge into trending topics. You can visit the website and search topics by category, see trends for up to 15 years. Sign up for the newsletter to get the latest exploding topics delivered to your inbox or try their premium features for more exploding topics.
---
2. Muck Rack Trends
---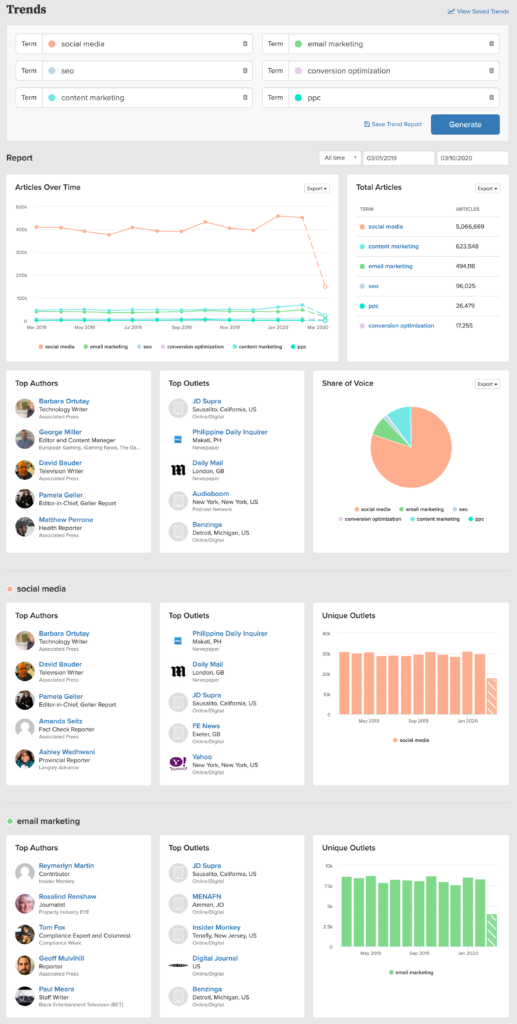 Muck Rack Trends allows journalists to discover news trends by comparing keywords, topics, names, and additional terms. Each analysis includes a comparison of articles over the specified time range, the top authors, and the top media outlets for each term.
---
3. Google Trends
---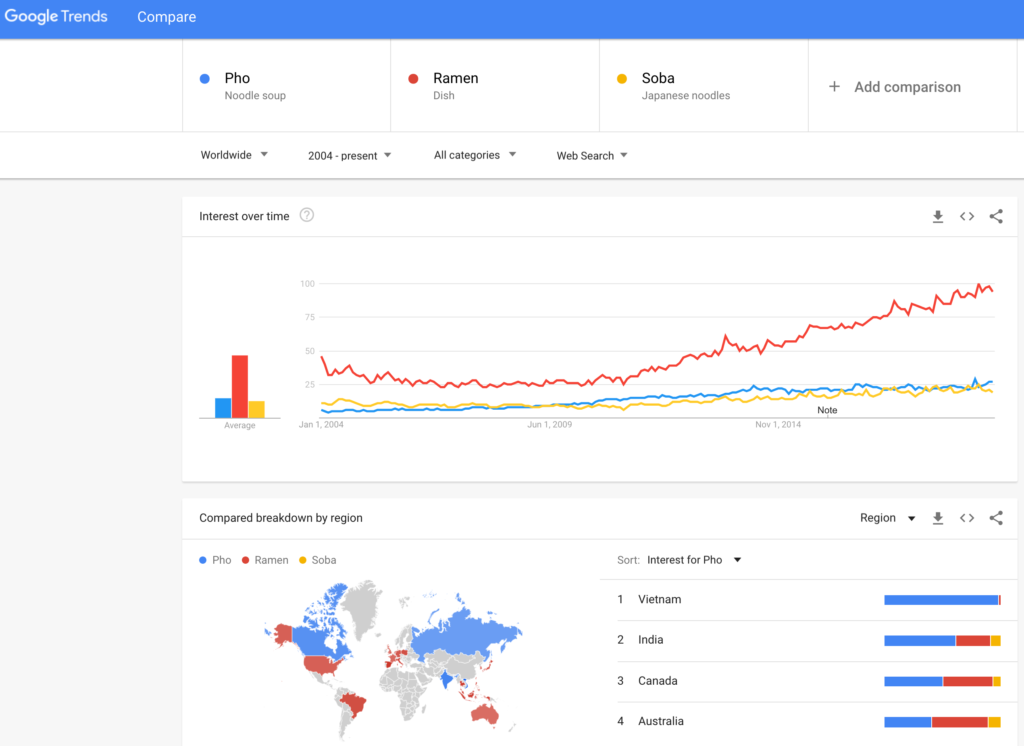 Google Trends offers insight into what the world is searching for on web search, image search, news search, Google Shopping, and YouTube. Sign up for subscriptions under the Google Trends menu. You can get emails about noteworthy events on a specific topic and the top daily searches for a specific region.
---
4. Taboola Trends: Trends in Native Advertising
---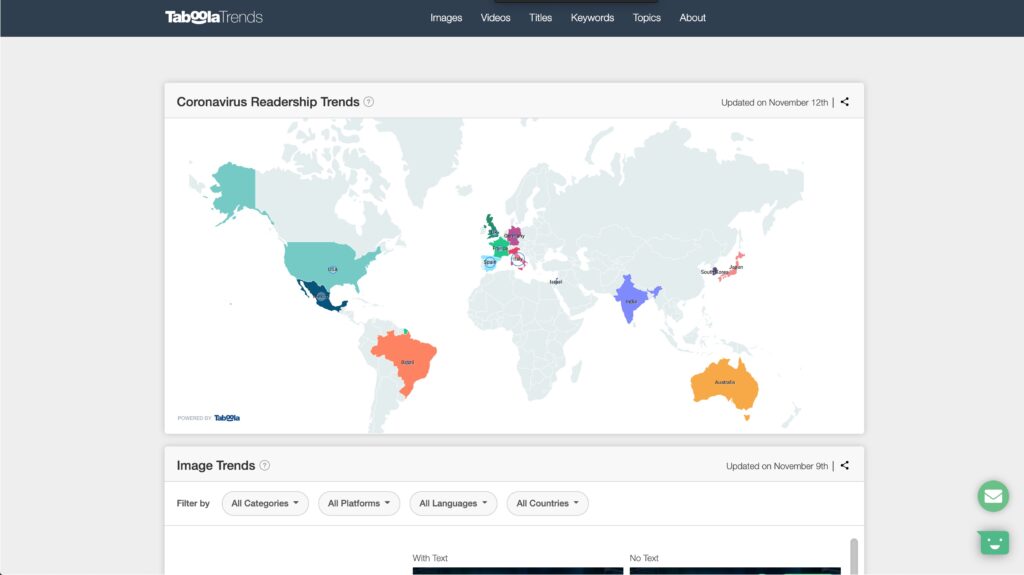 Taboola Trends shows the latest trends in topics, images, videos, and keywords for native advertisers.
---
5. Feedly: RSS & News Aggregator
---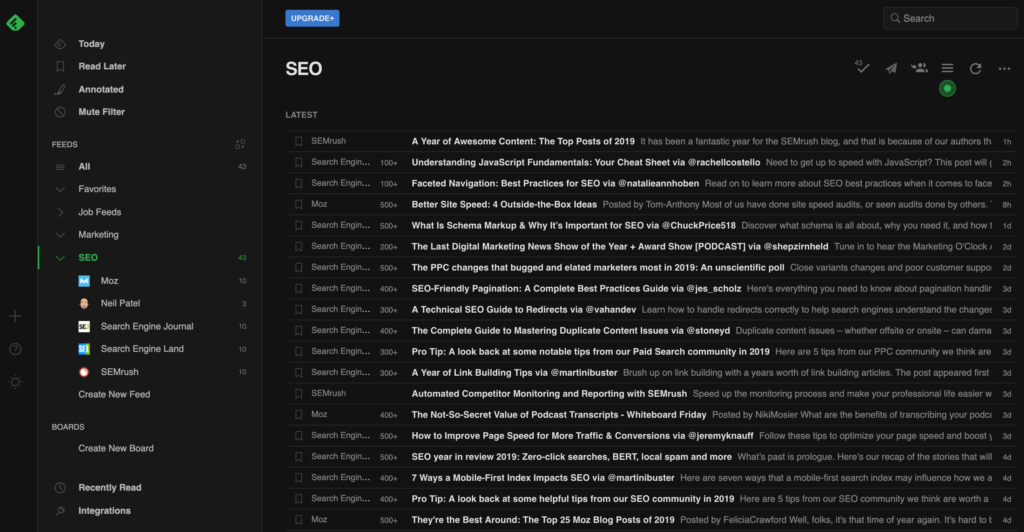 Feedly allows you to discover and subscribe to the best news sources on any topic. Subscribe to a few of the top blogs to see what topics they are covering. You should be able to scan headlines to find trending topics and gauge the social popularity of any topic by looking at the social metrics next to or beneath the blog post title.
---
6. YouTube Trending Videos
---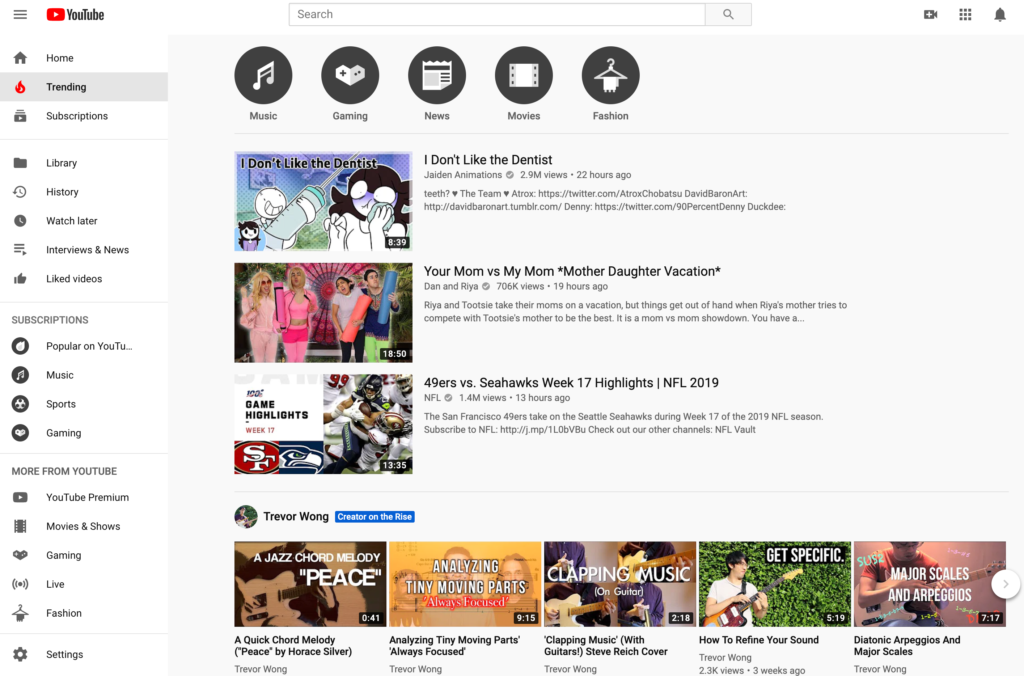 YouTube Trending provides insight into the most popular videos and creators in music, gaming, news, movies, and fashion. If you want to create videos to supplement your blog posts, this might help you get in touch with what YouTube's 2 billion visitors a month are watching.
---
7. Explore: Twitter Trending Topics
---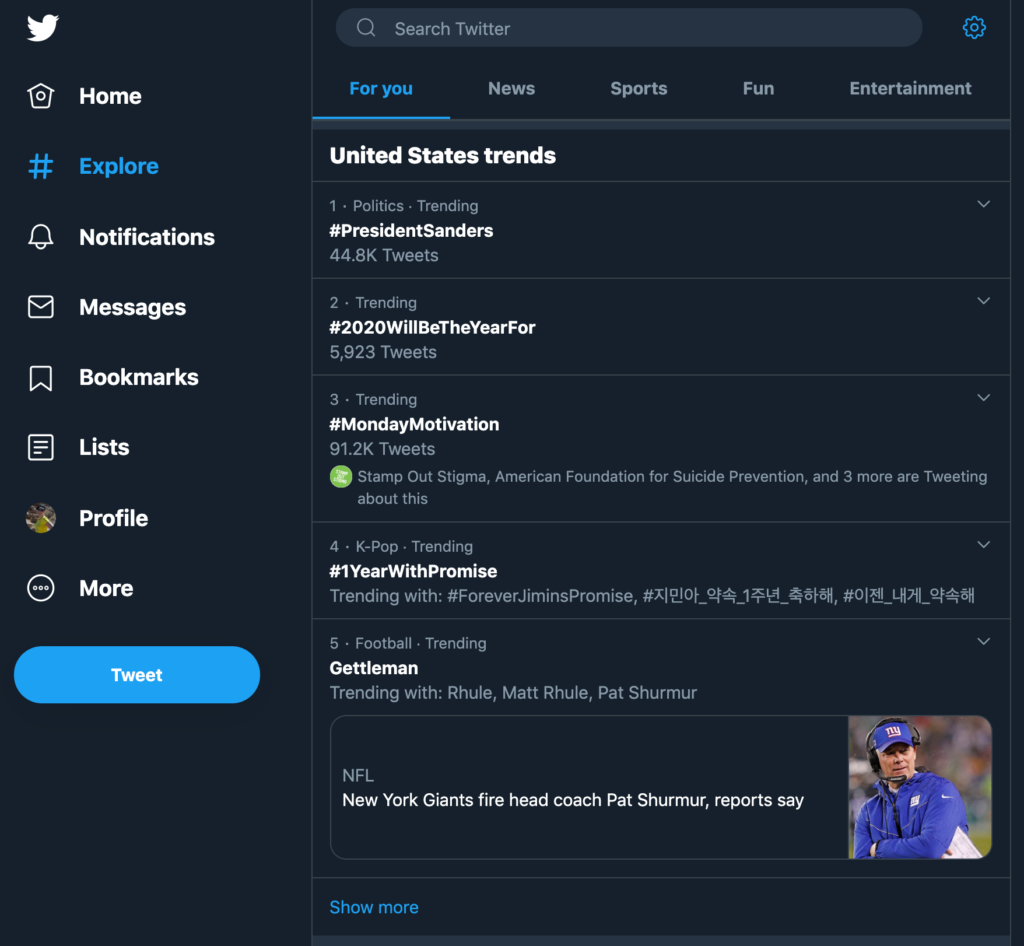 Twitter's trending topics are now on the Explore tab of the Twitter desktop and mobile app. You can view trending topics, followed by the most popular news and stories on Twitter.
---
8. Pinterest Trends
---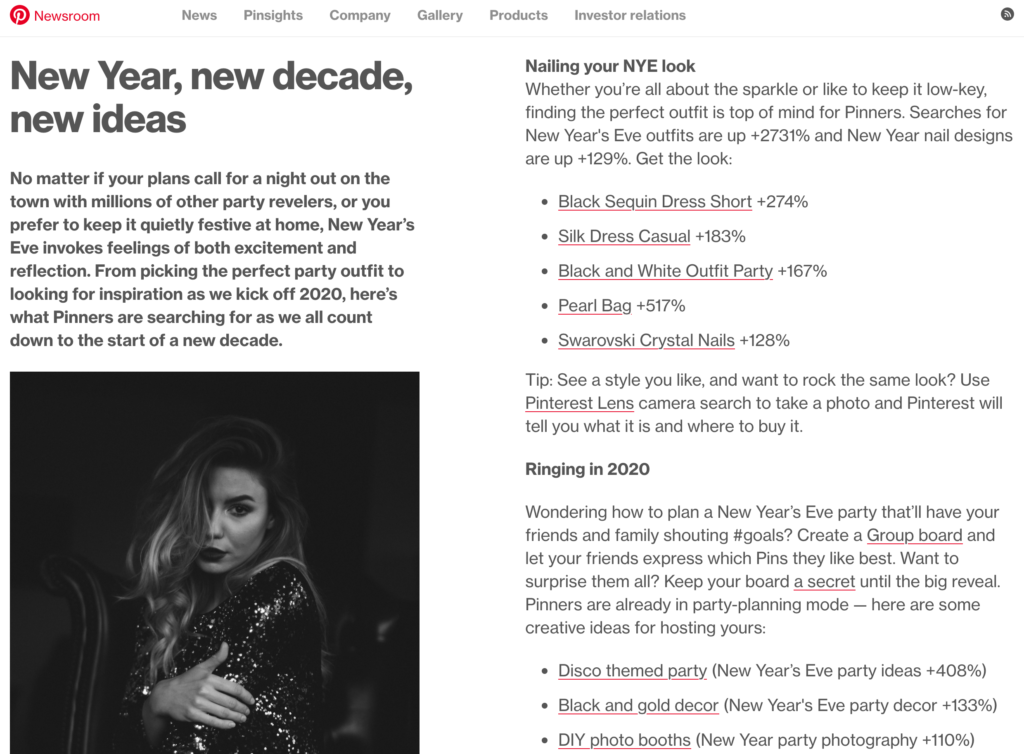 Pinterest is launching a Pinterest Trends tool to help businesses get insight into Pinterest search trends. Until it is available to everyone, you can get a summarized version of these insights in the monthly Pinsights reports.
---
9. HARO: Help a Reporter Out
---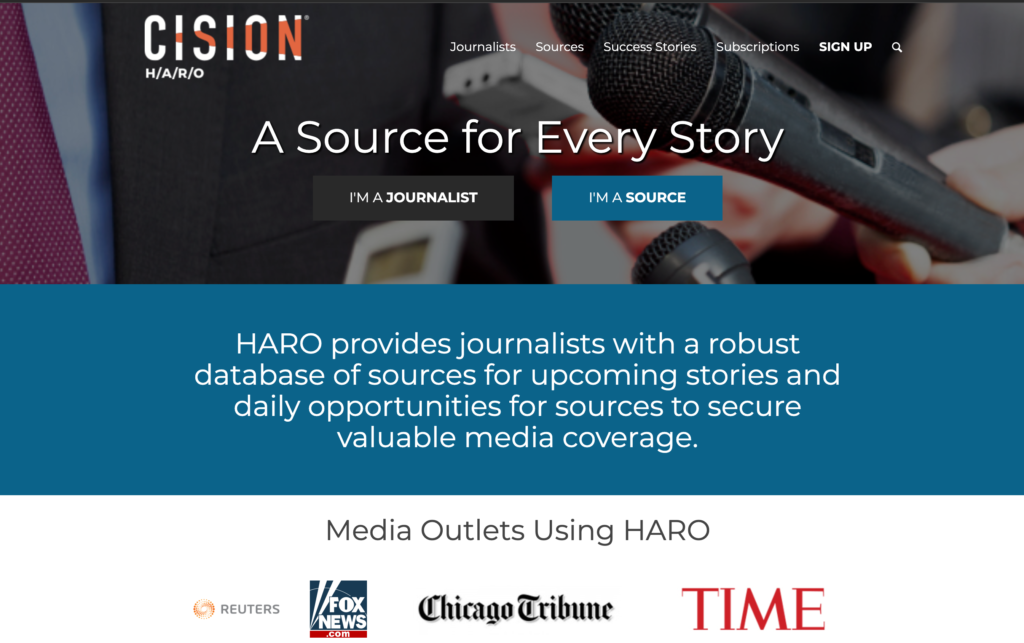 HARO (Help a Reporter Out) connects journalists with sources for stories in major media outlets like the ones shown above, The New York Times, WSJ, Mashable, and many others. Sign up as a source for free to get daily emails about the stories journalists are working on before they're published. You can also sign up as a journalist to get sources for your blog posts.
---
10. SmartBrief
---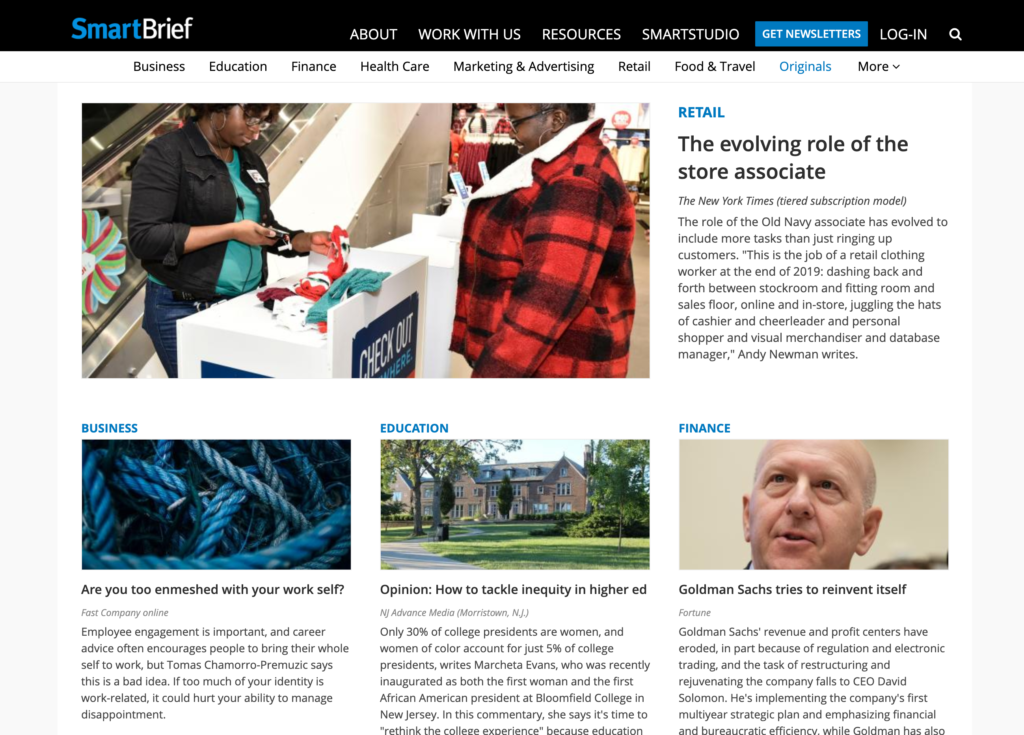 SmartBrief's motto is that they read everything so you can get only the news that matters. You can browse their homepage for the top stories on multiple industries, from Aviation to Telecom. Sign up for the topic-specific newsletters to get the latest news in your industry delivered to your inbox daily.
---
11. BuzzFeed Trending
---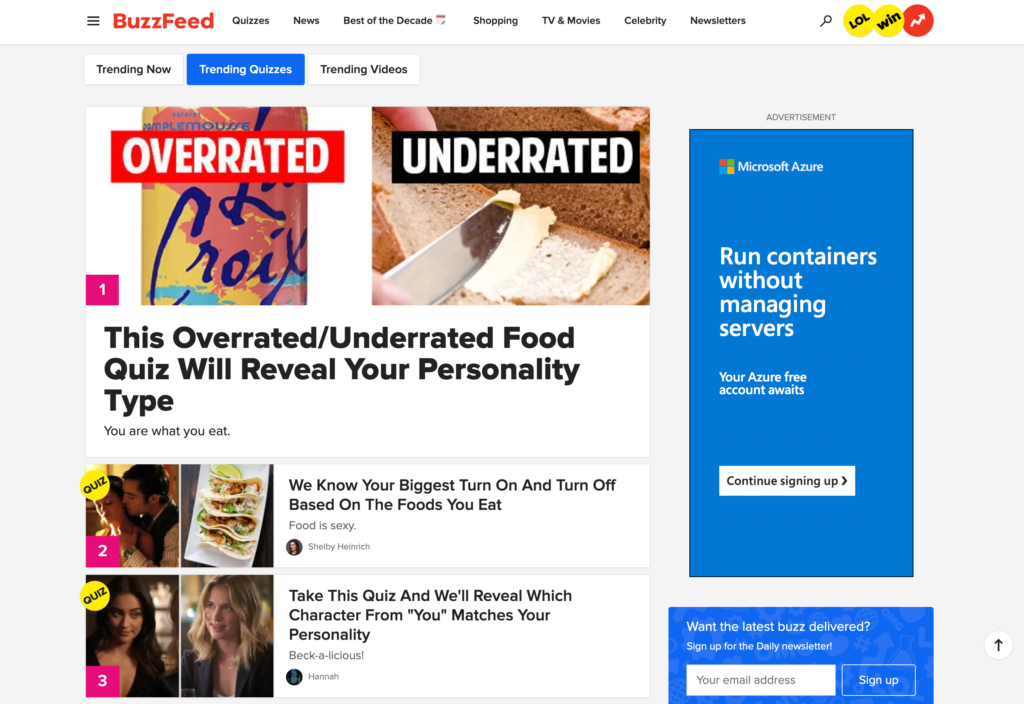 Tap into the fun side of trending topics by visiting BuzzFeed's Trending page. You can view trending news, quizzes, and videos to find out what entertains people most, especially if you want to incorporate pop culture into your content.
---
12. BuzzSumo
---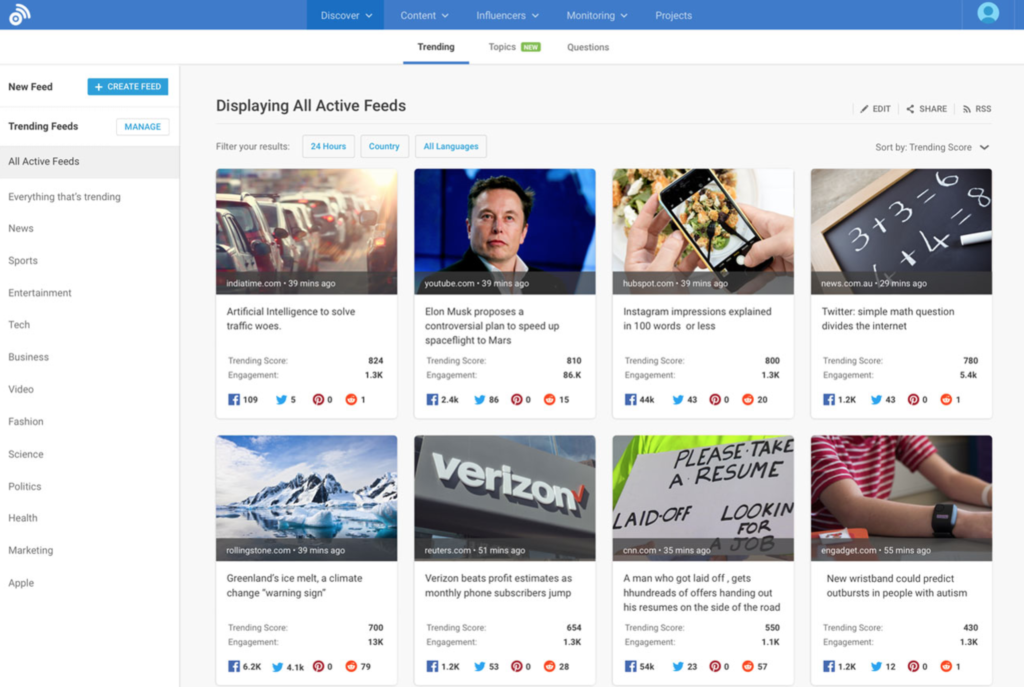 BuzzSumo is a premium content marketing research tool that includes a trending topics dashboard. You can view trending topics from sports, entertainment, tech, and other common industries. You can also add your own topic to see the trending topics within that feed. Pricing starts at $99 per month.
---
13. AllTop
---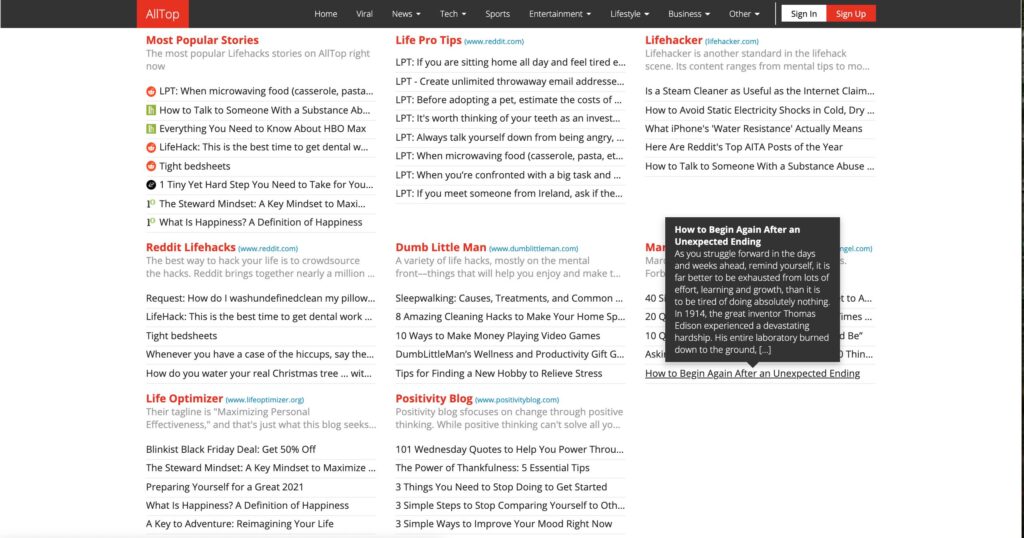 AllTop is a news aggregator website that displays the top headlines from popular blogs on a wide variety of topics. Use it to get a quick glance at what is trending today on the top publications in your industry.
---
14. Popurls
---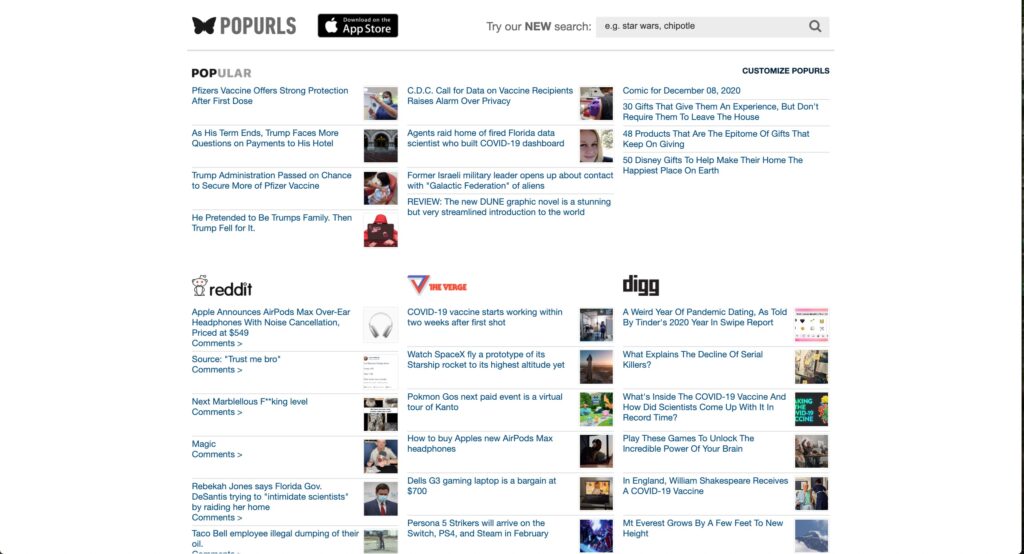 Popurls, the "mother" of news aggregators, brings the top headlines from popular news sources onto one page. You will find news from Reddit, Digg, Google News, Hacker News, Slashdot, and other popular media outlets. In addition, you can browse the top photos and video from sources like Flickr, YouTube, and 500px.
---
15. Semrush
---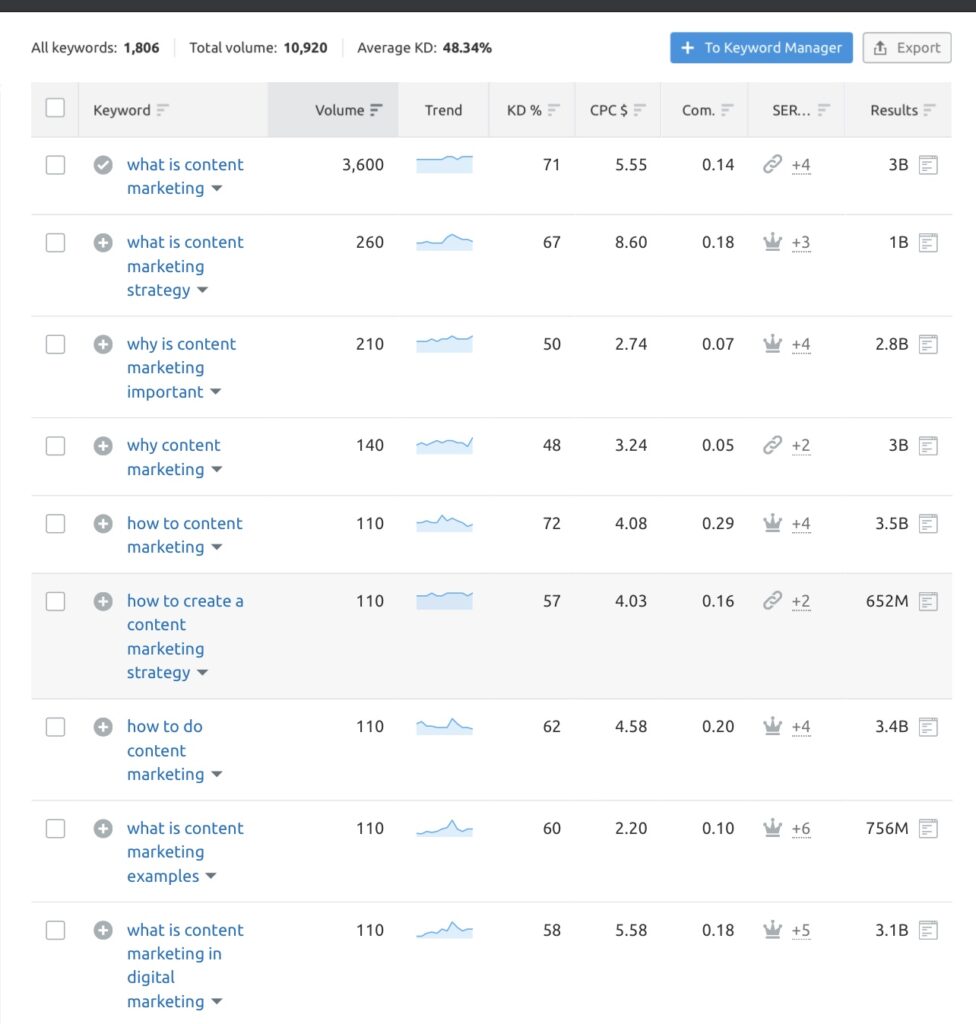 Semrush, a popular SEO and competitor research tool, has a keyword research tool displaying the 12-month search trend for keyword variations, keyword questions, and related keywords. It's well worth it for content marketers who want to publish topics that are increasing in popularity in search engines.
How to Get 250+ Blog Post Ideas from Trending Topics
If you're stuck on specific headline formulas for your trending topic blog post idea, there are tools that can help. HubSpot's Blog Ideas Generator will compile a list of 250 headlines with your trending topic or a keyword phrase (in exchange for your email address).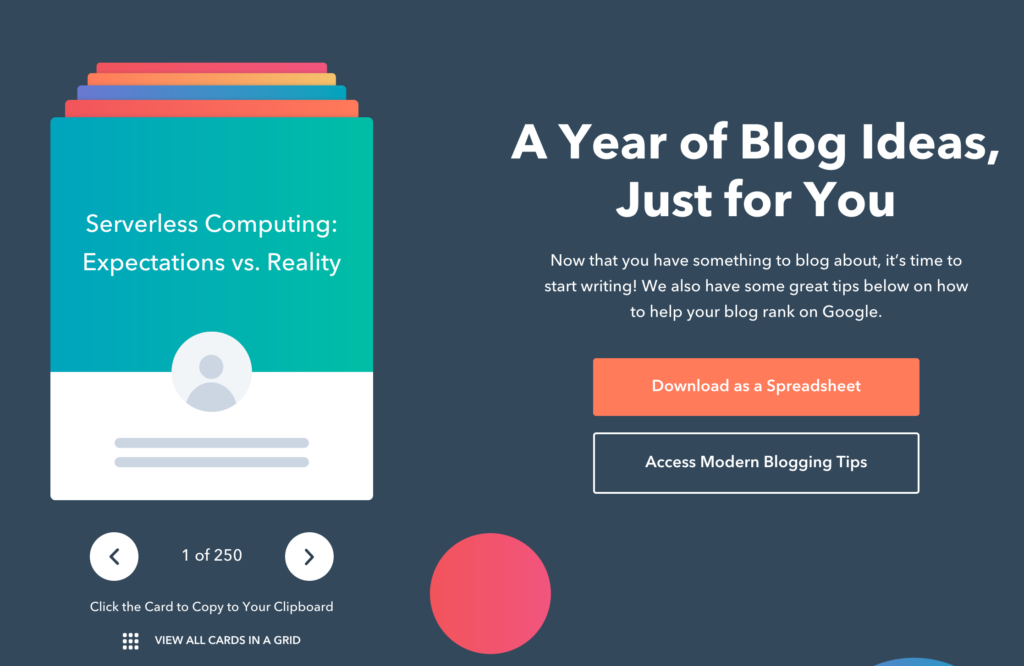 These headlines can be turned into multiple blog posts about your trending topic and future trending topics. Just find & replace the original trending topic you searched for with a new one in the spreadsheet file you download.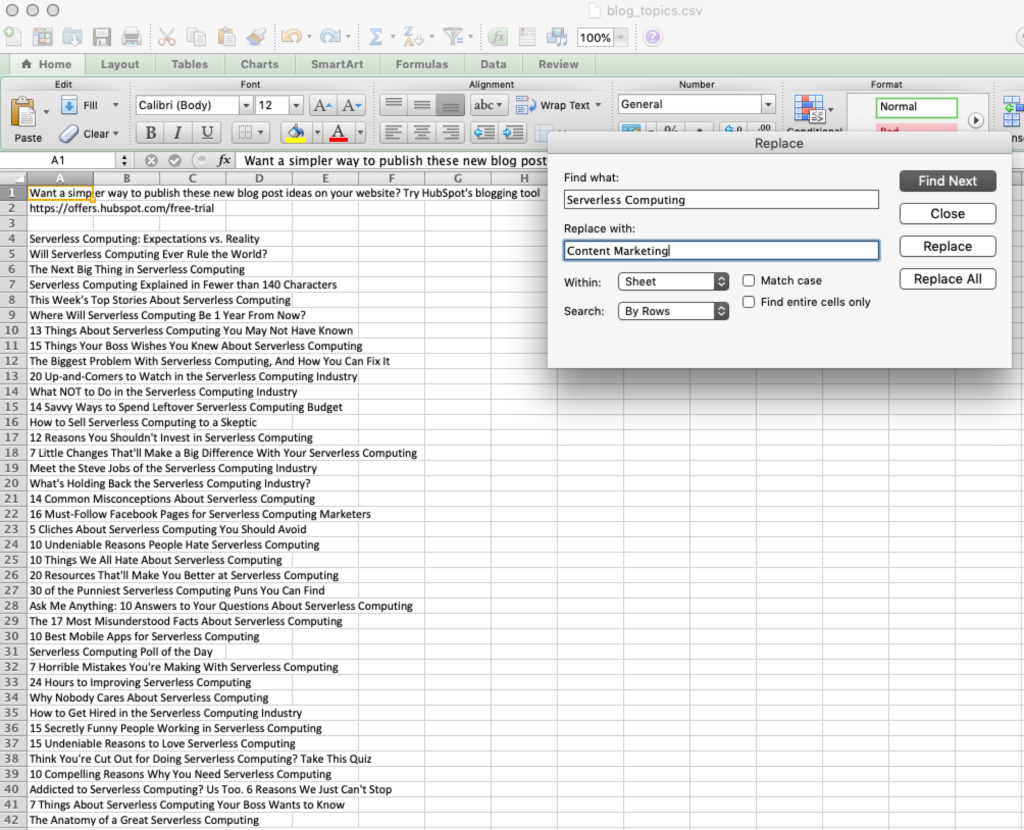 You can also try similar tools by WebFX, Kopywriting Kourse, The Hoth, Portent, Tweak Your Biz, Fat Joe, Content Row, Build Your Own Blog, Inbound Now, AnswerThePublic, Impact, and SEOPressor for more headline formulas and ideas.
How to Write a Unique Blog Post on a Popular Topic
You know what topics are trending in your industry or niche. You've got a great headline formula for your blog post title. Now what?
Unless you are on top of the news 24/7, there's a good chance that top blogs and news outlets in your industry have already posted about the trending topics you will learn about using the above-mentioned tools. But that doesn't mean you can't beat them. Using Google search, read the first five to ten articles about your trending topic. You will want to make sure that your post does the following.
Covers all of the main points others have reported.
Includes details that others have left out. You may have to dig deep to find those kinds of details.
Presents the content in your unique voice or cater the content to your niche audience.
How to Optimize Your Blog Post for Search
There is a lot that goes into SEO, but for the purposes of one blog post, here is what you need to know about keyword optimization. The first step is keyword research.
Ubersuggest is a freemium keyword research and SEO tool you can use to find the best keyword phrase use with your blog post for search optimization. For example, if you take serverless, one of the trending topics from the Exploding Topics image above, you can find suggested keywords, related keywords, and questions.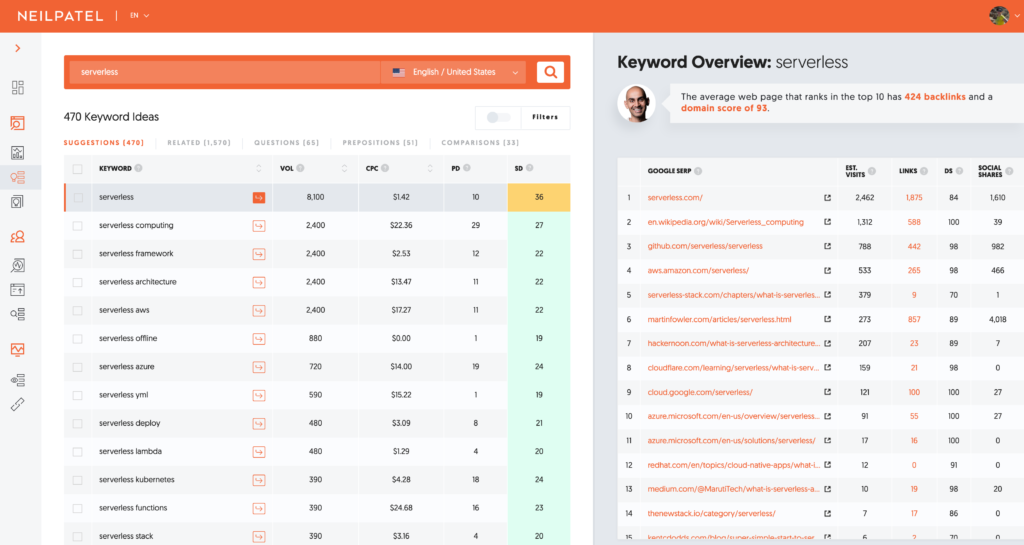 Once you have decided on the main keyword phrase you want to target, along with any others that are relevant, incorporate these keyword phrases into your blog post's title, introductory paragraph, subheadings, image filenames, and throughout the content. This will ensure that your post can be discovered by people interested in the trending topic you chose.
How to Promote Your Blog Post
Once you hit publish, you'll naturally share it with your network through email and on social media using all of the relevant hashtags for your trending topic. Most social networks, like Twitter, will suggest hashtags as you type. Instagram will even offer insights into the popularity of a hashtag if you search for it prior to creating your post or story.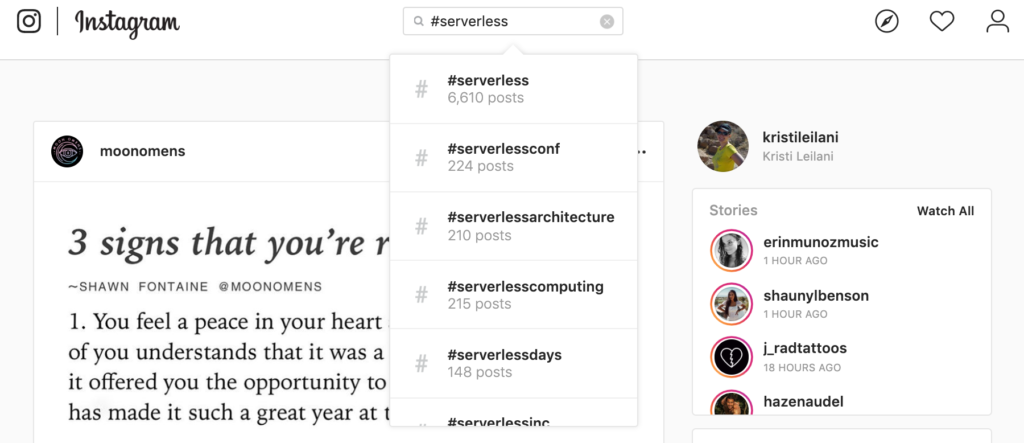 If your post offers more detail about a trending topic than others, you can also promote it to people asking about the trending topic on networks like Twitter, Quora, Facebook & LinkedIn (search discussions in your groups), Reddit, and forums.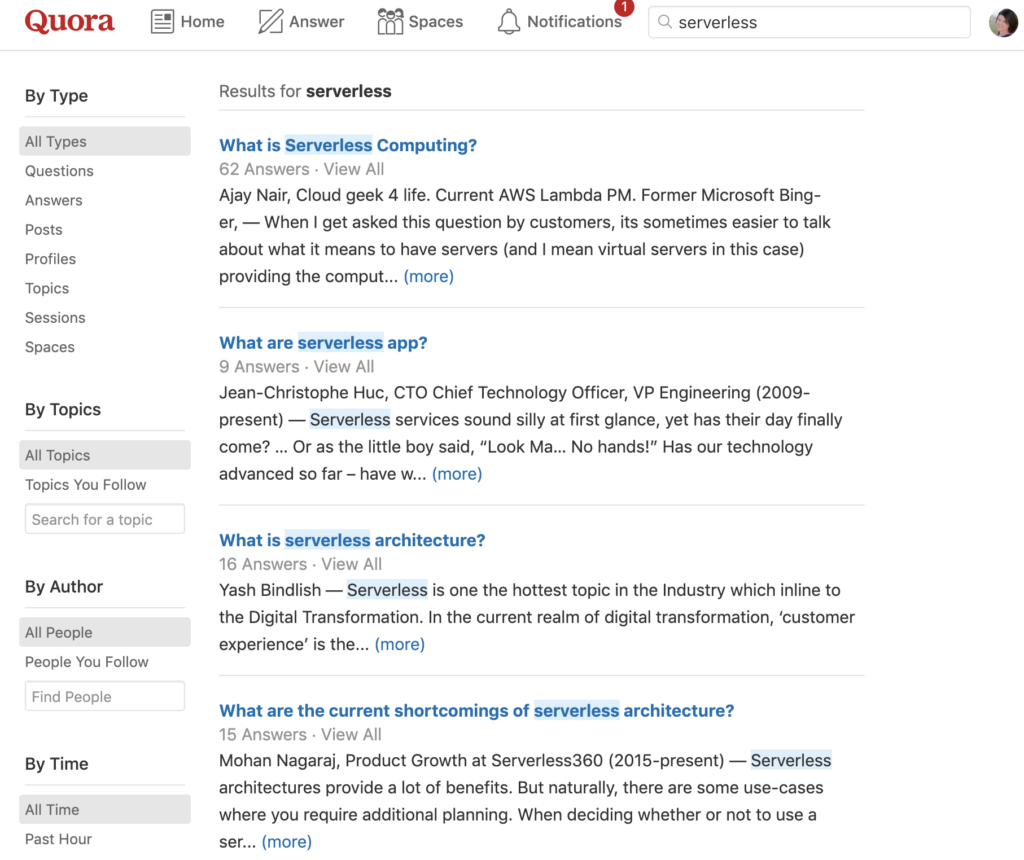 Note that this strategy isn't about spamming social media groups, discussions, and subreddits with links to your post. Instead, it's about offering genuine answers to the questions. And including a link to your post for more information about the topic when possible.
Summary: Utilize trending topic tools like Exploding Topics, Google Trends, and additional resources to find trending topics to write about. See what others have written about the trending topic and write something more comprehensive in your unique voice.