WordPress users who rely on artificial intelligence (AI) tools are in for a treat.
Elegant Themes launched Divi AI, a game-changing set of generative AI tools to help WordPress creators build unique websites and produce high-quality content.
Built within Divi, Divi AI is a robust solution offering many features to elevate your website's design and content.
Here are some of the features you can use now with Divi AI, along with some upcoming features in development.
Disclaimer: I have been a proud Elegant Themes affiliate since 2014 and will earn a small commission if you decide to purchase this product by simply using a link from this post.
Go Beyond Overused Stock Photos with Divi AI-Image Generator
Imagine conjuring exquisite images out of nowhere! With the Divi AI Image Generator, this is a reality.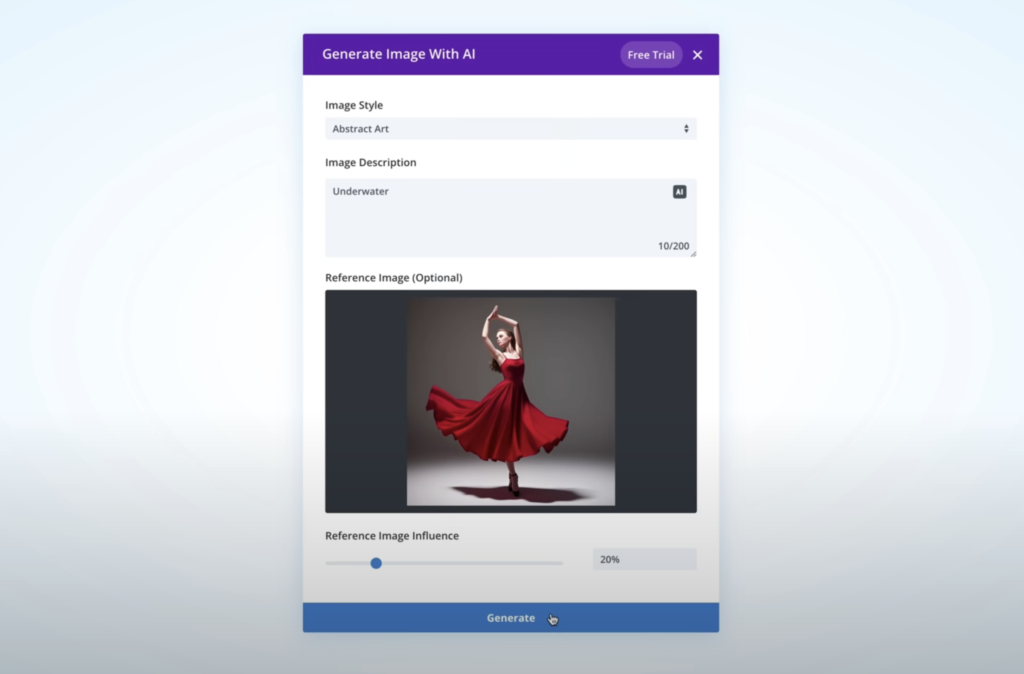 It works in just a few steps:
Provide a brief description of the image you envision.
Select a style ranging from photos, digital art, 3D animations to paintings.
Let Divi AI craft not one but four unique photos for you.
Forget the hassle of searching the web for the perfect image. Instead, create it without even leaving the builder.
Worried about licensing issues? Divi AI gives you a royalty-free license for every image you generate.
This means you can use these images, even for commercial purposes.
Improve the Quality of Images with Divi AI-Image Refinement
Do you already have an image that needs a little tweak?
Divi AI can seamlessly refine your existing images to match your content topic, brand, upcoming promotion, or other theme.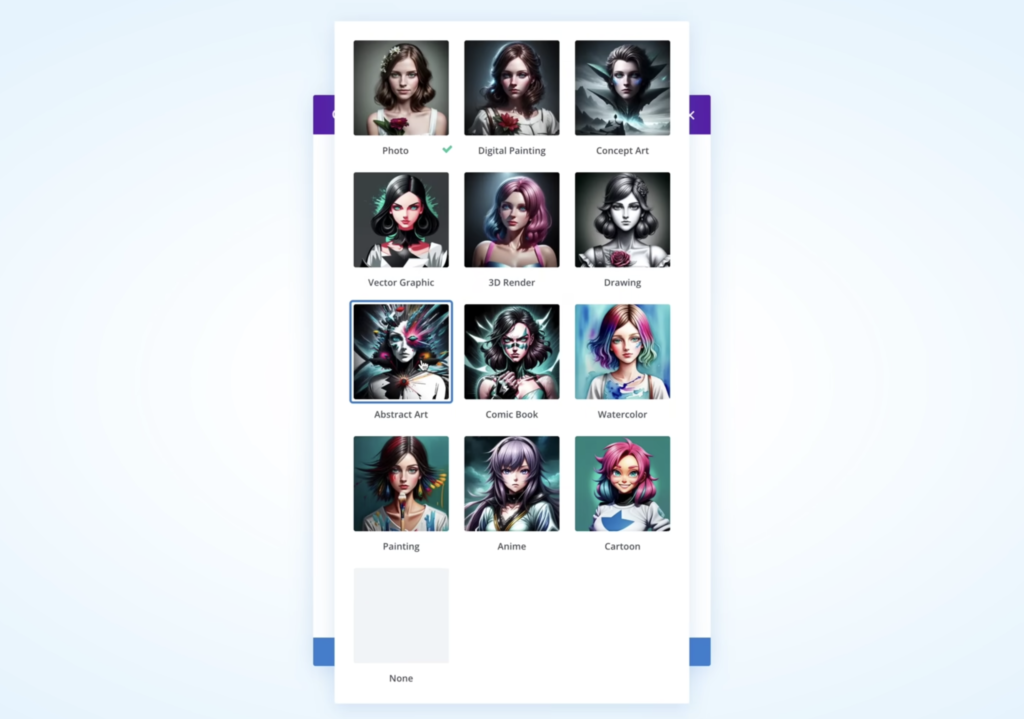 Convert spring vibes to winter, or swap a bouquet with a gift.
The flexibility Divi AI offers means your visuals always align with your vision.
Beat Writer's Block with Divi AI-Content Writer
Harness the prowess of language models similar to ChatGPT and Llama 2, refined exclusively for Divi.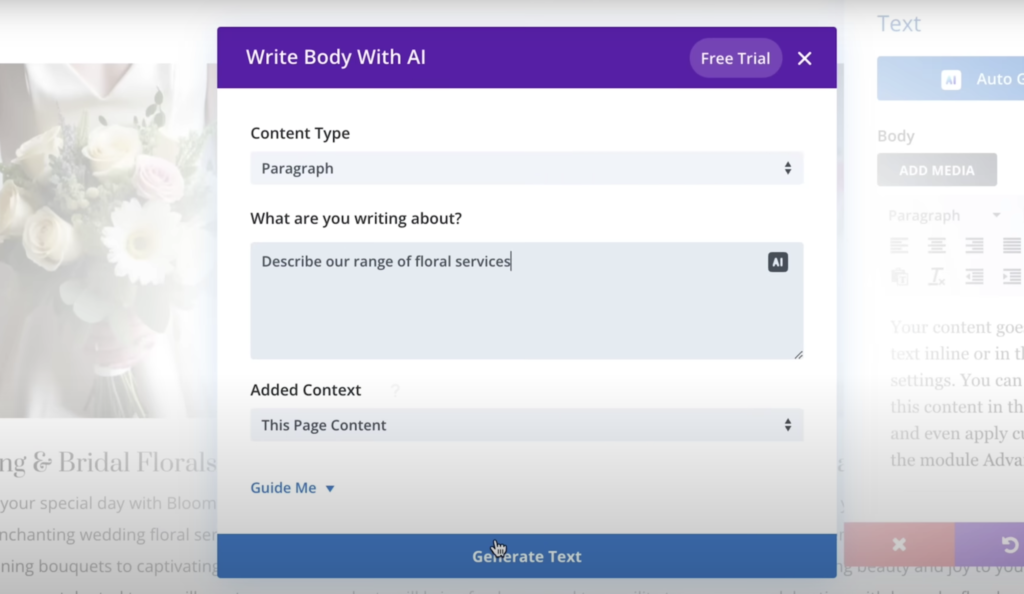 Whether it's catchy headlines, informative paragraphs, or extensive blog posts, Divi AI crafts content that resonates.
Optimize Content with AI-Text Refinement
Ensure every word aligns with your brand voice. Use Divi AI to refine, tweak, and optimize your content perfectly.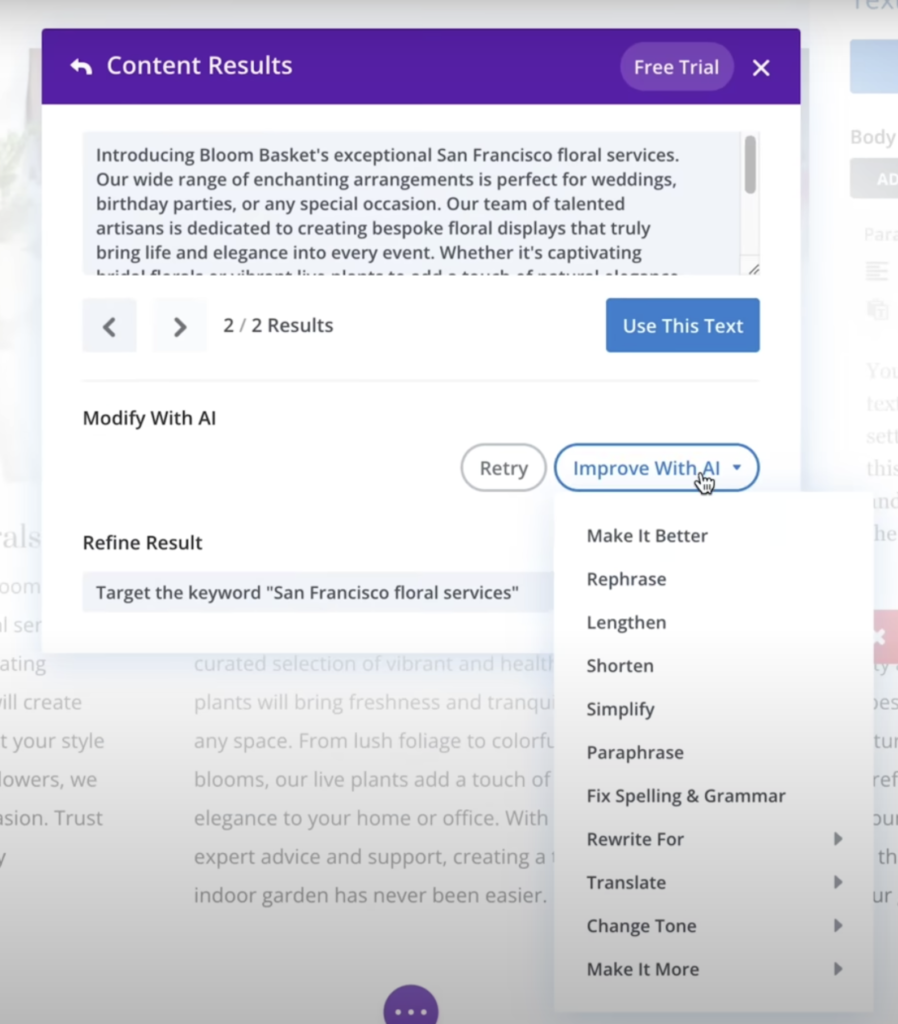 Prepare Content for Publishing with AI Translations and Editing
Divi AI's quick actions are designed for efficiency, from auto-translations and grammatical corrections to adjusting image styles.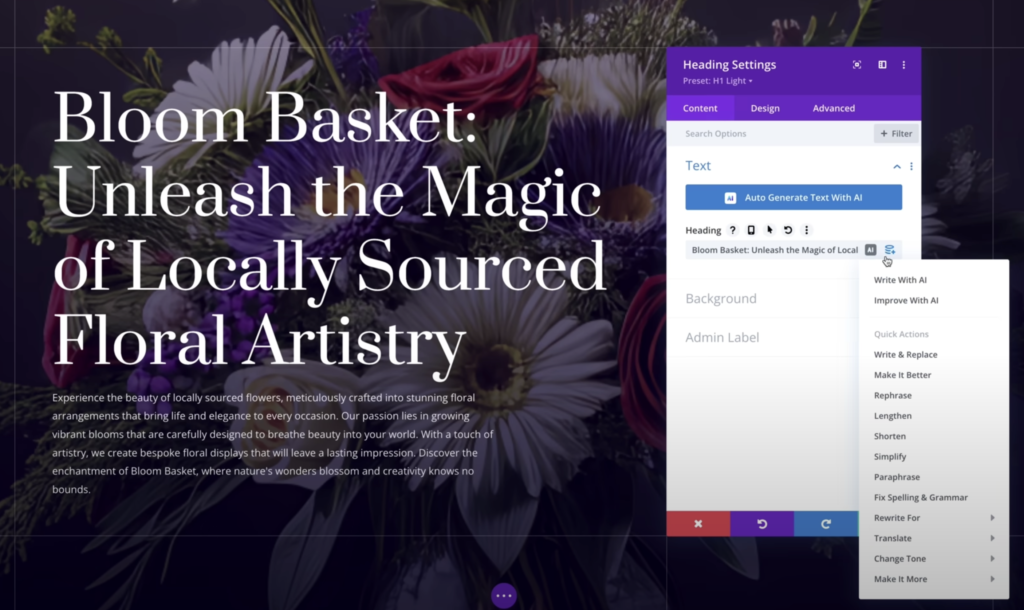 It's like having a professional editor inside of your WordPress installation.
Develop Like a Pro with AI Code Generation
Soon, even if coding and design are not in your skillset, upcoming Divi AI features will have you crafting a custom WordPress website, irrespective of your technical prowess.
Design Like a Pro with AI Layouts
Ever wished for a magic button to redesign your website layout? Your wish is about to come true.
Divi AI is working towards a feature allowing users to re-generate an entire layout. It's going to change the way you approach website design.
Craft Visual Perfection with AI Image Editing
The upcoming AI Image Editing feature will redefine your image design game.
Divi AI will be equipped to make it happen if you want to adjust an image size, modify specific portions, or generatively fill empty spaces. And all of this, right within the builder.
With such groundbreaking features in the pipeline, Divi AI is poised to be an indispensable tool for every Divi user.
Improve Workflow and Efficiency with Seamless Integration
What sets Divi AI apart from other generative AI tools? It's seamless integration with the Visual Builder.
Any text you generate is instantaneously applied to your page. The images you generate or refine with AI are directly uploaded to your WordPress media library.
This unparalleled convenience ensures you spend less time juggling between tools and more time perfecting your website.
Divi AI's journey doesn't stop at just generating content and editing. Here's a glimpse of what's brewing:
The Future of WordPress with Divi AI
The future of web design is here, and it's packed with AI-powered brilliance.
Unleash Divi AI's full potential as it learns and adapts to your website. Divi AI ensures a seamless website design experience, from generating accurate images to proposing content ideas.
Get your 40% discount for Divi AI tools for WordPress before the offer expires.
This would make Divi AI $14.40 per month when purchased as an annual subscription or $19.20 per month if purchased as a monthly subscription.
If you consider that ChatGPT Plus is $20 per month and Midjourney is $10 per month, getting an AI content writer and image generator for $20 per month is a great deal!
For existing Divi users, Divi AI offers a free trial in a limited capacity. Once you exhaust the trial limits, consider purchasing the Divi AI membership during the limited introductory period to unlock its full potential, encompassing unlimited text and image generation.
The Elegant Themes suite of tools for WordPress creators includes the Divi WordPress theme, Divi page builder plugin, Bloom email opt-in plugin, and Monarch social sharing plugin.