Freelance Ghostwriting Services
Are you tired of struggling to find a ghostwriter who truly understands your business, audience, and industry? Someone who can effortlessly capture your brand voice while delivering top-notch, SEO-optimized content that gets results?
Look no further! With over a decade of experience in digital marketing and ghostwriting, I have what it takes to revolutionize your online presence and turn your website, blog, and ebooks into highly-effective marketing tools.
Why Choose Me As Your Ghostwriter?
I am an accomplished freelance writer passionate about crafting compelling content that resonates with readers. With over a decade of experience in the writing industry, I have honed my skills in various niches, including business, marketing, technology, lifestyle, and personal finance. My work has been featured in numerous high-profile publications, including Search Engine Journal, Social Media Examiner, Semrush, Moz, Rival IQ, BigCommerce, Taboola, and Redbooth.
When you choose to work with me, you're not just getting a seasoned freelance writer – you're getting a dedicated professional who cares deeply about the success of your project. My clients appreciate my attention to detail, commitment to deadlines, and unwavering passion for delivering top-notch content. I take pride in understanding my client's unique needs and goals and work tirelessly to ensure their satisfaction.
Whether you need a captivating blog post, an informative article, or an in-depth white paper, I have the expertise and experience to deliver content that exceeds your expectations. Contact me today to discuss your project and learn more about how I can help your brand shine.
Holistic Digital Marketing Knowledge
As a digital marketing specialist, I have honed my skills in various disciplines, including content marketing, search engine optimization, social media, and email marketing. I understand the ins and outs of the online world and know how to create content that grabs attention, drives traffic, and boosts conversions.
Professional Copywriting
Whether it's persuasive sales copy or attention-grabbing social media content, I have the skills to create content that sells. His copywriting expertise will help you generate leads, increase conversions, and drive revenue.
High-Quality Website Content
In the digital age, a well-designed website with high-quality content is essential for success. I will create compelling and informative content for your website, ensuring visitors stay engaged and find what they want.
Educational Blog Content
From educational articles to industry news and insights, I will produce blog content that captures your audience's attention and establishes your brand as an authority in your niche. With a focus on SEO optimization, your blog will also rank higher in search engine results.
AI-Assisted Content Creation
To ensure you get the best possible results, I leverage cutting-edge AI tools that assist with researching, writing, and editing content with incredible speed and accuracy. I can create highly relevant, engaging content and tailor it to your audience's needs using AI.
SEO Mastery
SEO is essential for any online business, and I pride myself on a deep understanding of SEO best practices. I will create engaging content for your readers and optimize it for search engines, ensuring your website ranks highly on Google and other search engines.
Editorial Excellence
As an experienced ghostwriter, I have a keen eye for detail and a strong editorial background. I will ensure that your content is free of grammatical errors, well-structured, and expertly crafted to keep your readers engaged from start to finish.
Confidentiality
Your privacy is my priority. As a professional ghostwriter, I guarantee full confidentiality and transfer of ownership for all content created for you. Your content will be uniquely yours, and my name will never appear on any of the work produced for you.
How To Get Started
Don't miss out on the opportunity to work with a seasoned professional who can transform your ideas into captivating content. With over a decade of digital marketing experience, I know what it takes to make your brand stand out in today's crowded online landscape.
𝐒𝐜𝐡𝐞𝐝𝐮𝐥𝐞 𝐚 𝐂𝐨𝐧𝐬𝐮𝐥𝐭𝐚𝐭𝐢𝐨𝐧: Contact me to schedule a free, no-obligation consultation. I'll discuss your project, goals, and expectations to ensure our ghostwriter fits your needs perfectly.
𝐏𝐥𝐚𝐧 𝐘𝐨𝐮𝐫 𝐏𝐫𝐨𝐣𝐞𝐜𝐭: I will work closely with you to develop a tailored content strategy that aligns with your objectives, brand, and target audience.
𝐒𝐢𝐭 𝐁𝐚𝐜𝐤 & 𝐑𝐞𝐥𝐚𝐱: Let me do the heavy lifting as I craft exceptional content that speaks to your audience, drives engagement, and boosts your online presence.
𝐑𝐞𝐜𝐞𝐢𝐯𝐞 & 𝐑𝐞𝐯𝐢𝐞𝐰: You'll receive the completed content for review and can request revisions, ensuring your complete satisfaction with the final product.
𝐋𝐚𝐮𝐧𝐜𝐡 & 𝐒𝐮𝐜𝐜𝐞𝐞𝐝: With your new top-notch content in hand, it's time to launch! Watch as your brand gains traction, your audience grows, and your business thrives.
Hear What Others Have To Say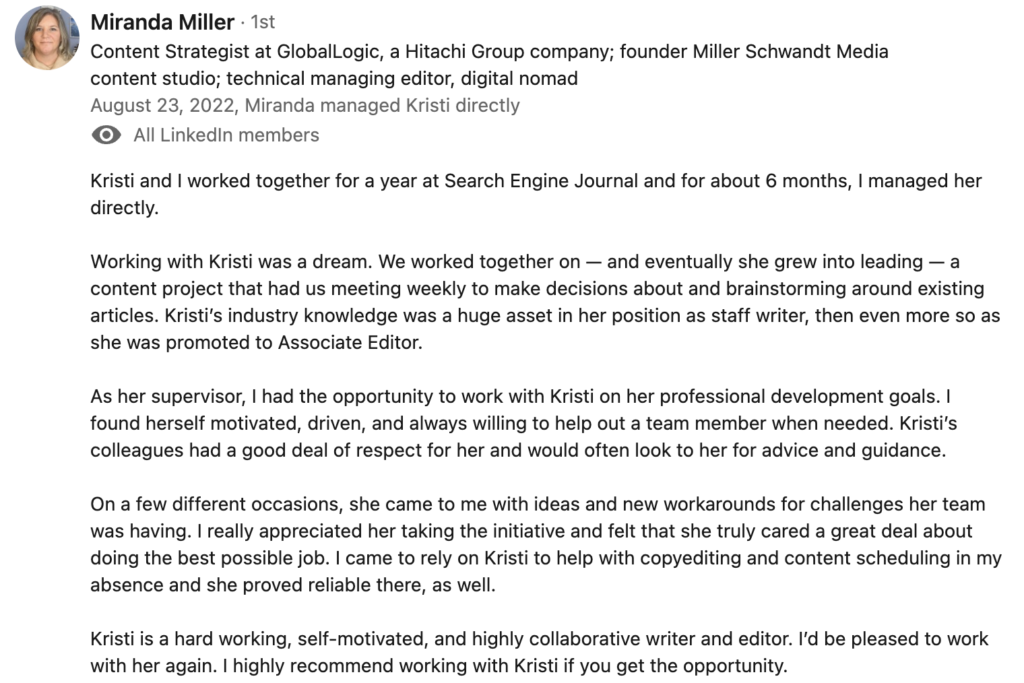 You can read more of my recommendations on LinkedIn to understand what I can offer.
Transform your business with compelling content that drives traffic, boosts conversions, and elevates your brand authority!
Contact me today to learn more about how my local marketing consulting services can help your business succeed.